AS/A Level English Language
Summer 2021: Information and updates
Visit our Summer 2021: Information and updates pages for all the latest on how grades will be awarded, support materials, appeals, and results days.


JCQ has also released a range of guidance for schools and colleges here.
A Level English Language Specification
Download
AS Level English Language Specification
Download
Latest Examiners' Report
Download
English Language Resource Guide

- This booklet provides an overview of the support, guidance and resources available to those teaching the Eduqas GCE English Language specification across our suite of websites.
Broad coverage of aspects of language study to meet the interests of all learners.


Promotes coherent pedagogical approach to delivering the specification.


Opportunities to apply knowledge of language levels across components.
Read more
Read less
Digital Resources
Key Documents
Online Exam Review
Summer 21 Assessment Resources
Discover FREE Digital Resources!
Unlock your learners' potential with an impressive range of FREE digital resources, teaching tools and materials.
Access a collection of interactive units that bring together a number of elements including general data, exam questions, their marking schemes and examiner comments, which will lead you through a review of exam questions.
Our Assessment Resources are sets of questions based on specific themes, topics or skills within the qualification. They are optional resources (their use is not mandatory) which have been created to assist teachers in assessing learners in summer 2021. We recommend that you use the Mapping Grid provided initially to help you find appropriate Assessment Resources. Our Mapping Grid has been designed for you to view, at a glance, the content and assessment objectives covered in each Assessment Resource, and then download the relevant Assessment Resource.
Courses
Materials
Webinars
Upcoming Professional Learning Events
There are no events currently scheduled for this qualification. 
Our annual programme is published and open for bookings during the summer term. Sign up for the latest updates here.
Materials from previous courses can be found on the Secure website and/or under the Materials tab.
AS/A Level English Language - New Centre Briefing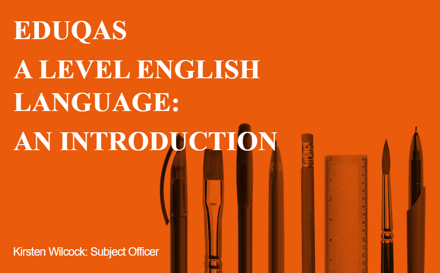 AS/A Level English Language - Amplifying the AOS

Teachmeet - 'Language and Identity' NEA AS/A Level English Language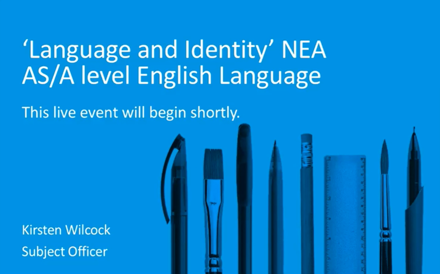 TeachMeet - Reading Resilience: Introducing Strategies through Early Modern English - Student Resource
Student Resource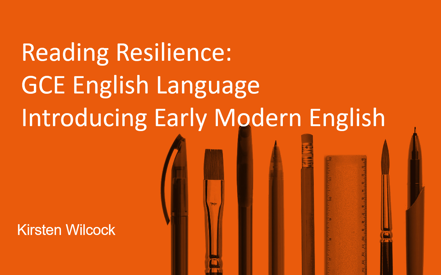 NEA Guidance 2020-2021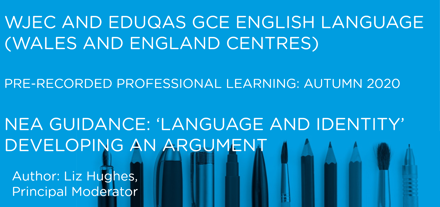 Teaching and Learning

Developing English Language
Teaching the novel and unseen prose



To view the webinars you will need:
An up to date browser, such as Internet Explorer 8 (or later)
Adobe Connect and an Adobe plug-in installed
Use this link to download the software needed
(Please contact your IT Technician if you do not have the rights for your PC to install software)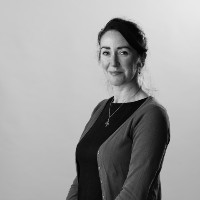 Have a question about AS/A Level English Language?
Subject Officer
Our subject team is happy to help you with all your queries related to the teaching and learning of our specifications. Our Subject Officers are experienced teachers and are here to support you with delivering our qualifications. Get in touch with us via e-mail or telephone.